EarBanz- Baby ear and eye protection and so much more!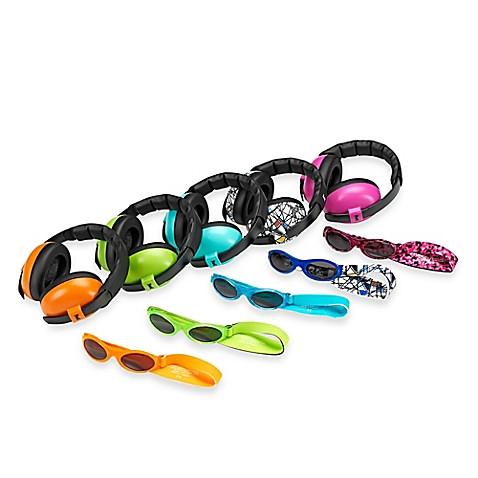 We knew we wanted to invest in ear protection when our daughter was born. Living in NYC, we knew we didn't want her to be exposed to the loud sounds of subway trains as an infant. We also wanted to take her to some louder outdoor events, like NYC Pride and concerts in Prospect Park. EarBanz was one of the only companies that had regulated and tested ear protection available for a newborn. I also really liked that we would only need to invest once to get her to 24 months, since their product can grow with her.
In looking at their website, I found a lot more than just ear protection, so we ended up getting an adjustable sun hat, EarBanz ear protection and infant sunglasses, and two bathing suits.
EarBanz adjustable sunhat
I was so pleasantly surprised by this sun hat. I have been trying to find a hat that fits my daughter's tiny head since she was born. We have gone through every brand of hat, and none had fit well. This adjustable sun hat adjusted all the way down to her tiny head. It also had a super cute pattern AND was reversible. I like that the brim is so large too, as it really protects her neck and part of her shoulders. It is a durable fabric and the stitching is done really well.
Pros:
Adjustable down to newborn
Nice pattern
Great workmanship
Large brim
Looks great even with newborn adjustment
Cons:
The only con is the price, but when I considered $18 for a hat that would "grow with her" it made sense to me.
EarBanz ear and eye protection
I cannot say enough how much I love these! I got the sunglasses thinking my daughter would throw them off. The price different for the set wasn't that much more expensive than the ear protection alone. I am so glad that I got them because she doesn't seem to be bothered by them at all, and seems to enjoy having her eyes covered when we are out in the bright sun! We got the teal color set and they are really aesthetically pleasing. I tested the ear protection on myself and it definitely muffles the sound to a reasonable level. I also really appreciate that the ear protection are cushioned along the band. The glasses are also soft cushion-y material everywhere outside of the eye-glass frame. She doesn't seem to be bothered by either and we have found them to be very useful. I also really like that they will "grow with her" until she is 24 months. I really love both of these products. Worth every penny.
Pros:
Great workmanship
Padding and baby friendly material
Baby doesn't seem bothered to wear them
400 UV protection
Meets safety and testing standards
Nice color
Grows with the child
No cons! Excellent product!
EarBanz bathing suits
We picked up two different bathing suits for her, a one piece UV swimsuit and a Rashguard and swim diaper combo. Both of them seem very well made. Excellent stitching and good material. Both are UPF 50+ and keep her quite comfortable. We chose the blue and green combo for both and they are really cute. I know there isn't much to say about a swimsuit other than it worked and it is well made, but I really can't say enough how much I am pleased with all of the products from this company.
Pros:
Well made
Great stitching
Good colors
UPF 50+ Protection
Durable
No cons! Excellent product!
---