Dual Camera Monitors: DBPOWER 4.3-inch Video Baby Monitor vs the Infant Optics DXR-8 Video Baby Monitor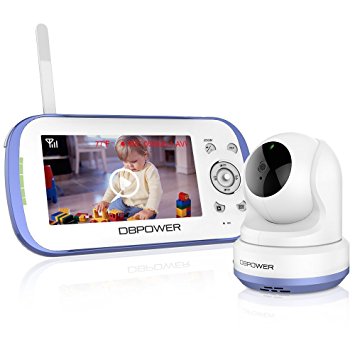 So there will be two babies soon, which means we need double the monitoring. As much as I can't believe that there will be two babies, this means that my old Motorola monitor isn't going to cut it anymore. When I started researching monitors, the only two that seemed to have close to what we wanted were the Infant Optics DXR-8 Video Baby Monitor and the DBPOWER 4.3-inch Video Baby Monitor.
Some of the features are really similar: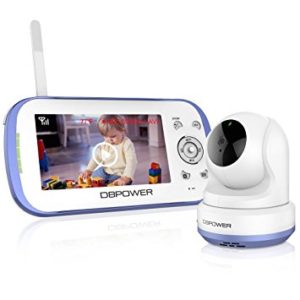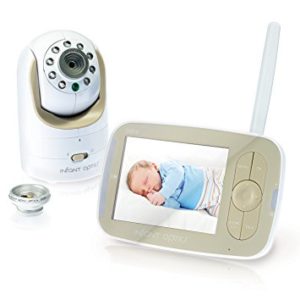 Both have pan/tilt/zoom
Both support up to four cameras
Both have a scan mode for multiple cameras
Both have excellent picture quality
The packaging on both was beautiful and completely gift-worthy
Both have a remote temperature display
Both have two way talk that is clear and at an appropriate volume
Both have night vision
I only have one complaint about both systems, and really any system with pan/tilt/zoom: I really dislike that I have to hang the camera so far away to get a good downward angle. I think this is just an issue with any camera that is motorized, but it is annoying.
A few major things major things made me choose the DBPOWER:
Price: You can get the DBPOWER for $139.99 and each additional camera is $79.99. The Infant Optics is $165.99 and each additional camera is $99.70.
Screen size: The DBPOWER has a 4.3-inch screen that is really to see from my nightstand. The Infant Optics has a 3.5-inch screen, which I did not find as easy to see from a few feet away.
Alert system: The DBPOWER has a great alert system that lets me know when our baby is crying or there is an issue with temperature. I REALLY love this feature! Every other monitor I have used I am listening for the sound of a baby crying or moving, which can be difficult if I am anywhere where there is other noise. I have also had the sound of the amplified crying actually further wake our daughter from sleep when she was in an adjoining room, which is incredibly frustrating. The beeping is a much more gentle wake up for me, is WAY easier with noisy areas, and doesn't wake our daughter. I have also been INCREDIBLY impressed with the accuracy of when the beeping occurs. It feels like magic because it alerts to her coughing, crying, or standing but somehow doesn't alert when she is just readjusting in sleep.
Manual camera shift and split screen for multiple cameras: The Infant Optics has a scan, but doesn't offer an easy toggle between cameras. The DBPOWER has a scan, manual shift, and a split screen. This was an absolute deal breaker for me.
Lullaby feature: Though this isn't something we choose to use at the moment, it is nice that the DBPOWER offers a lullaby feature with volume control.
Nightlight: I LOVE this feature of the DBPOWER. I can toggle it from the monitor, so I can turn on the nightlight on the camera before I go into her nursery.
Mounting: The DBPOWER and extra camera both came with a mounting shelf that was really helpful.
Choosing wall or ceiling mount option: The DBPOWER has a feature that let me choose where I hung the camera, which oriented the camera to the screen in a more appropriate way depending on how I hung it.
Charging: The DBPOWER requires no batteries and so far has had a great battery life while the Infant Optics requires 3 triple A batteries.
Recording ability: The DBPOWER has the ability to record manually or automatically and supports up to a 32GB micro SD card for this purpose.
The only thing that the Infant Optics has that the DBPOWER does not is interchangeable lenses, but I can't imagine I would need that between the pan, tilt, and zoom that DBPOWER offers.
Overall, I am more than impressed with the DBPOWER, and chose to return the Infant Optics. They are both fine monitors, but the DBPOWER monitor offered me much more than the Infant Optics at a lower price point.
Big Winner: DBPOWER
---