Gathre High Chair Mat- A lifesaver for those with food throwing toddlers!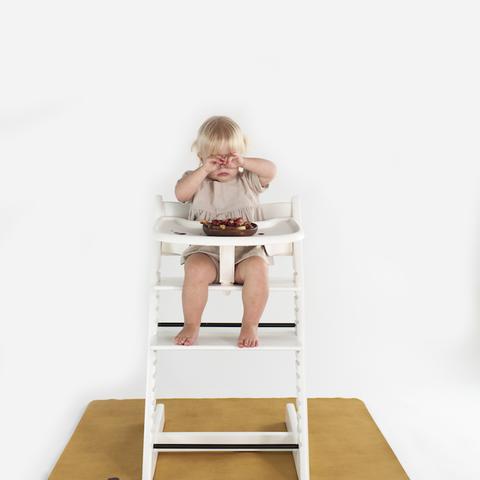 My dear little one has taken to chewing up food, spitting it out, and throwing it on the floor. This is especially difficult because, like most Brooklyn parents, our living room and dining room share a space. Cleaning chewed carrots and green beans out of the rug became a task I was doing WAY too many times a day.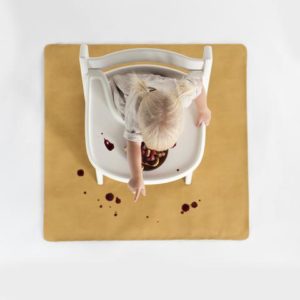 I was actually looking for playmats when I stumbled on Gathre bonded leather mats. I wanted something that would help her play safely on our uneven wood floors. Though these mats weren't padded enough for what I needed in a play mat, the Mini sized mat designed for highchairs ended up being perfect for our new food spitting problem.
I was totally enthralled by the website design and color choices, I have never seen a simple mat appear so fabulous. Many of their colors were out of stock, but all of them were beautiful, so I chose a Honey colored Mini (pictured throughout the post) and hoped for the best.
First off, it appeared at my door in less that 48 hours. I'm not sure if they are always that fast, but I was impressed. The packaging was simple and stunning, perfect for a gift for a new mom. I actually considered not recycling it and using it to store the mat, but ultimately remembered that I have a tiny NYC apartment that requires minimalism.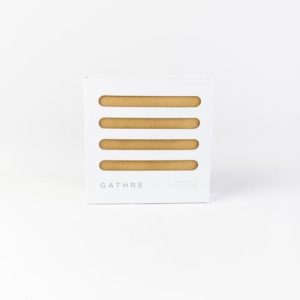 The color was as beautiful as advertised, and the leather was incredible supple. I wasn't convinced it would be easier to clean than my floor, but put it under my daughter's high chair for our lunch that day. MUCH to my surprise, it was large enough to catch the food that she dropped off the side and when lunch was done I was able to wipe it clean and good as new in about three minutes. I have since used it for every meal, and love that I can just pick it up and shake dry crumbs directly into the garbage. The only person who doesn't like it is probably our dog, because she long longer gets to be meal-time clean up crew.
Things I love about it:
It is incredibly beautiful
At 40×40 inches there is plenty of room on here for multi-uses. I can envision us doing crafts or having a picnic in the park.
The bonded leather wipes completely clean with just a wet paper towel
It is light enough to pick up and shake into the trashcan for dry crumbs
It folds small, so I store it easily on the little shelf of her high chair
I know this is an odd one, but it smells fantastic, even after many times of being used and cleaned.
The craftsmanship is unparalleled. It is truly a one-of-a-kind item.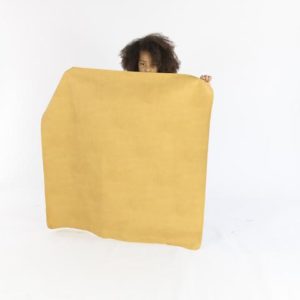 Overall thoughts: At $40 for the solid colors and $60 for the prints, it is an investment, but so far it has been worth every penny in our household!
---