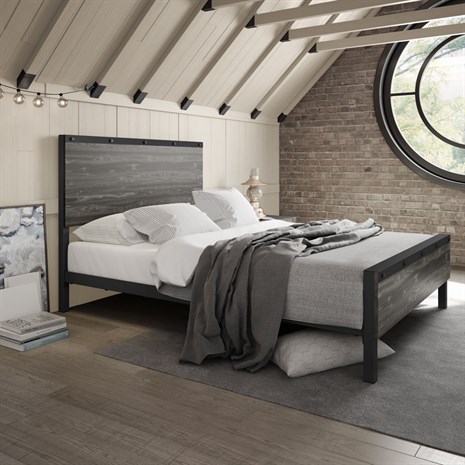 New glorious bedroom and new glorious mattress require a new bed! This is a big issue for me because I have had a stunning queen sized cherry sleigh bed for more than a decade that I love. I swore I would never get another bed. What I have learned is that I love a comfortable amount of space to sleep more than I love any bed in particular. Thus me spending a late night nursing session looking for beds that bed be delivered.
Amazon was a wash, there are king sized beds on there, but there are reviews that say they sometimes come with bedbugs, so that is a HUGE no go for me. No bed is worth that.
Down the Google rabbit hole I went. I found Amisco. Amisco has great brick and mortar locations, but they actually have a few shippable beds. I was worried about a bed surviving shipping, but their beds are the perfect masculine look, so I decided to give them a try.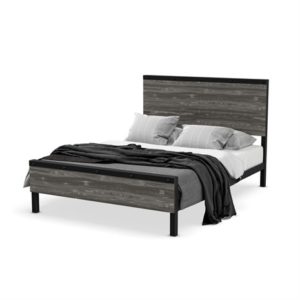 What I love about Amisco beds:
The look: Their shippable beds are beautifully masculine. We went with the Winkler bed in light gray, and the gray wood with the black metal and large bolts looks fantastic. They are modern and stunning.
Solid: This bed is SO solid. I can jump in and not make a sound not move a bedmate. The cross bars really help with the solid feel.
Price: $1299 for a solid wood/metal bed is a great price.
Build: It definitely took two people to build, but it actually only took around two hours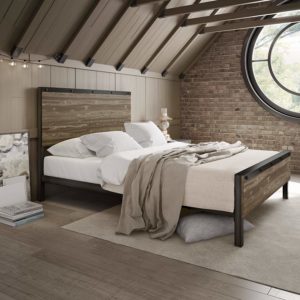 Overall thoughts: If you want a quality bed with a great look and solid feel, you should shop Amisco.
---