Milky Mama to the milk supply rescue!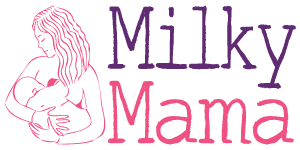 Breastfeeding is hard. Let me just start off by saying that. It is a full-time job and it's not for the faint of heart. But wanting to feed my baby was the most important thing to me and I knew I needed to produce enough milk.
I began looking up supplements to help keep my milk supply up so I could have enough to feed my son and have extra to freeze and save. I came across a few companies that were questionable but I wanted something natural. I found Milky Mama in the middle of the night during a nursing session. After researching and reading testimonials, I knew they were the one I wanted to try.
I opted to try the Lactation Brownies, Lactation Cookies, Lactation LeMOOnade (regular and pink lemonade), Tropical Iced Tea, Nipple 911 balm, and the Milk Collector.
Pros:
-Great taste
-Individually packaged so they were easy to bring on the go
Cons:
-Dry and brittle
Pros:
-Tasted pretty good
-Also individually packaged
Cons:
-Very dry and brittle
Pros:
-Great size bottle (16oz)
Cons:
-Very strong taste, I had to mix them with half water to cut the sharpness
Pros:
-I normally HATE tea but this one actually tasted good!
Cons:
-None
Pros:
-Easy to apply (I liked to keep mine in the fridge for use after pumping)
-Small, easily portable, metal container
-Didn't stain my clothes
-All Natural
Cons:
-None
Pros:
-Easy to use
-Effective
-Has a base so it stands easily
-Comes with a lid for easy storing
-Also comes with a bag for keeping it clean during storage
-Suction can be tailored to your needs
Cons:
-None
The milk collector was great to use on the opposite side while my son was nursing. I could control the suction level and was able to get 1-1.5 oz during a nursing session. The Nipple balm was great to use for sore nips during those first few months. I still use it a few times a week and It's a great size to throw in your diaper bag.
Overall, I liked the Milky Mama products. I don't feel like they boosted my supply tremendously but I definitely do think they helped. Every body is different so results will vary but I'm definitely glad I tried them out. Even if it was just an excuse to eat a brownie or cookie, it was a good one!
Bonus, they have discounts for military, first responders, students, and teachers! Click here!
---