Swinging to sleep with Graco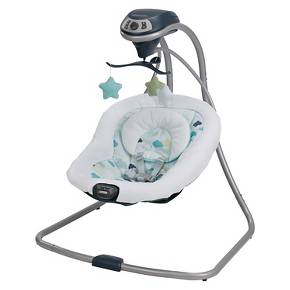 Swings. Babies love swings but not every baby loves every swing. This makes swings a difficult thing to review. Before we had our daughter, I scoured Amazon for the best reviewed swing that also would fit in our cozy Brooklyn apartment. I felt unsure about spending $100 or more dollars on something our daughter might hate. Especially since I would unbox it before she was born, and didn't want hold on to the packaging in case I needed to return it.
I came across the Graco Simple Sway Swing and liked the price. At $75 on Amazon, I thought it was a substantiated financial risk. I went the stratus color option, since it fit our nursery color scheme. The description on Amazon said it "fit in any space" too, so that seemed like a good fit for our snug home.
Things I love about the swing:
It has a smooth motion
It goes side-to-side
It has 10 songs and 5 nature sounds
The mobile stars are really cute and my daughter liked to stare at them
It has 6 speeds, though anything over setting three made me really uncomfortable because it REALLY swung. Maybe there is a baby out there that liked to feel like they were being blasted to the moon.
It plugs in, which meant I didn't go broke buying batteries
Things I don't love:
There isn't a white noise option for babies who prefer that as a sleep sound.
The music doesn't turn off when you turn off the swing motion. This led to me leaving the music on many times and realizing it only after I wanted to bore hires in my own skull it was so annoying.
The music is a bit chipper for a sleeping baby.
The music got stuck in my head MUCH more than other musical toys.
The vibrating option requires batteries and the batteries were SO annoying to put in after it was put together that I never did it.
Safety:
I really liked the five point harness. I felt like she was secure and it was easy enough to put on.
I didn't like the speed or unsteadiness of any setting over 3.
Apartment footprint:
This swing has a much bigger apartment footprint than I originally thought.
The base is wide and bulky to move. The side to side motion really limits where you can put this. This was very poorly described in the specification section of the swing.
My biggest complaint:
The mobile DOES NOT rotate. It looks like it should, but it doesn't. Even more sad, my daughter LOVED looking at it, so I know she would have really enjoyed it it rotated.
---