Land of Nod "Be on the Sea" Activity Mat- A love letter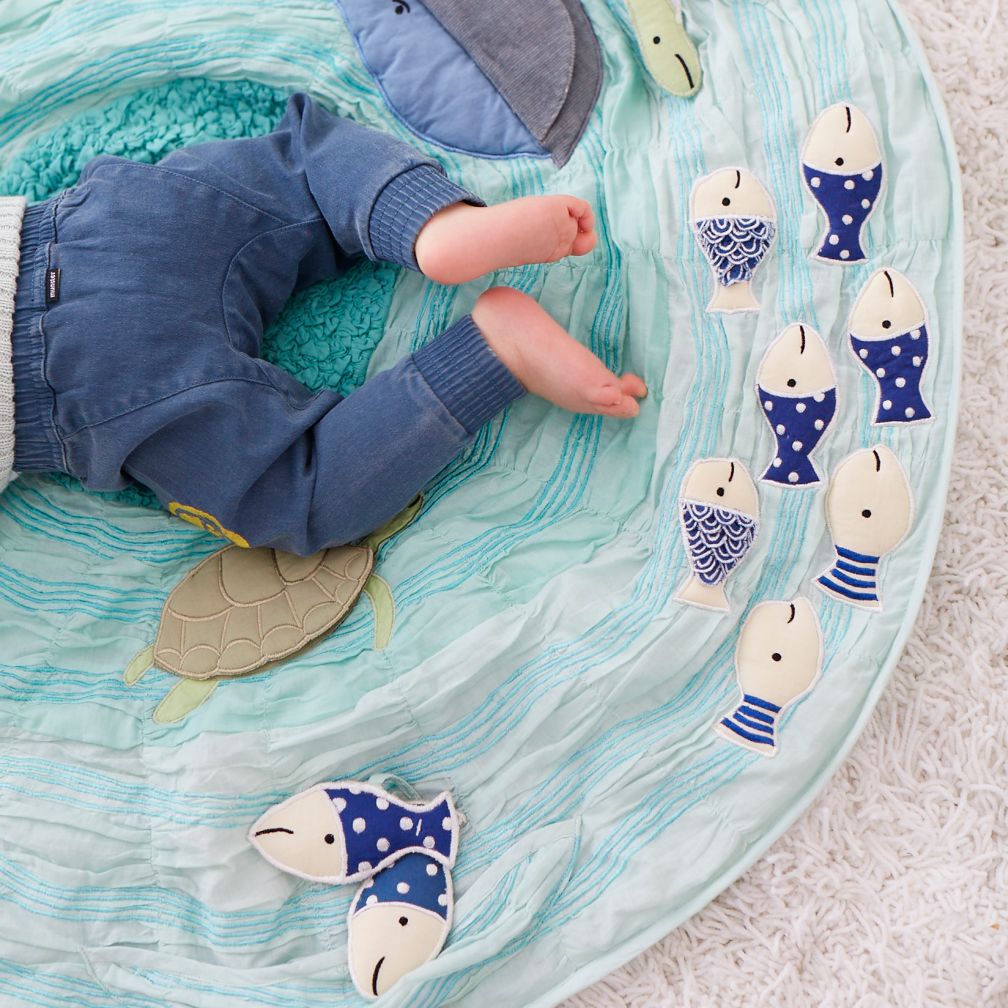 I originally acquired this activity floor mat to be part of a larger comparison of different activity mats for infants. When I sat down to write the comparison, I realized there was absolutely not comparison for this activity mat. I don't know that I have ever said that about an infant item before, but I have also never loved an infant item this much. It is nothing short of a work of art. Seriously, I am obsessed with this mat. I put my daughter on it daily and it is a staple in our living room floor.
I decided instead to essentially write a love note to this activity mat. First, it is beyond beautiful. The "waves" that are sewn into the mat, fading from a deep to light teal/aqua are what really make this remarkable. The stitch work exceeds all my expectations. The characters present are adorable and my daughter finds something new to love about it every day.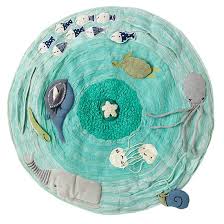 The center of the mat is a deep teal button with a small textured starfish on top and a squeaker toy inside. The fabric around it is textured and teal as well. My daughter loved getting her tiny fingers in the texture of this fabric. Surrounding that are aqua and teal waves that fade out to the covered corded edge of the mat. This flexible corded edge really helps the activity mat keep its shape when I move it or fold it up.
The characters are pretty stellar too. There is a turtle whose shell opens to a flexible and shiny reflective service. There are two jellyfish with warm tentacles that my daughter loves to pull and feel. There is a squid with crinkly tentacles that my daughter and cat love equally. There is a group of fish that that have textured fabric scales. There are also a tethered eel, fish, and snail that rattle and tuck into pockets on the side of the activity mat. Again, not really sure who likes this more, my cat or my daughter. If you are in need of a cat activity mat, this would be a good choice for cats too.
The only two characters that I'm not really sure of are the two whales. One has a open mouth flap that is definitely the least beautiful animal on the mat. The other whale had a small noisemaker in it, but it broke when someone (me) stepped on it. This activity mat hardly needs to be improved, but if Land of Nod wanted to, I think a more durable noisemaker in one whale and a better mouth for the other would be my only suggestion.
Pros:
Stunningly beautiful
Exceptional stitch work
The transitional color pattern of the "waves"
Adorable characters
Variety in infant level activity
Easily washed
Cons:
The one "less cute" whale
The whale with the easily broken noisemaker
Overall this mat is really fantastic. It is washable, durable, beautiful, and an all around great buy for any infant. Enjoy!
---