Travel feeding: Because home feeding isn't hard enough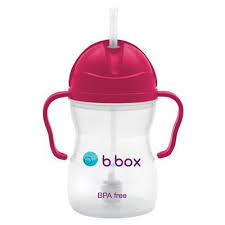 I decided to try out a variety of items from two different companies b.box and SiliKids to help with travel feeding. As you can imagine, travel feeding is no easier than high-chair feeding. Instead, I am just trying to pick noodles out of my hair in front of people instead of at home by myself.
I stumbled across b.box while looking for affordable sippy cups with weighted straws. When my daughter was first trying to use a sippy cup she only had success with thin straws that were weighted but they are SO expensive and they didn't hold much water. b.box had a great option for a sippy cup that held twice the amount of liquid and was so much easier to hold.
I CANNOT speak highly enough about b.box sippy cups. As I mentioned, our daughter started with Zoli cups, which have a similar weighted straw, but our Zoli cups always did a weird thing where the water/milk would push itself out of the straw slowly and end up making a giant mess on the floor. I needed the benefits of the weighted straw without the spontaneous mess.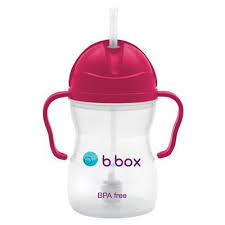 Things I love about the b.box Sippy Cup:
The weighted straw: My daughter can tilt it or even lay back and still be able to drink successfully because the straw naturally moves where the liquid is. I also like how much independence this allows her.
The wide bottom: I love that is cup has a wide bottom and isn't easy to tip over.
The handles: She seems to have such an easier time holding the handles of the B.box. I like that they have a shape that is easy to grip.
The straw folds away: The straw tucks easily into a sliding piece that both my daughter and I have an easy time maneuvering. This way it can be kept away from germs and mess when not in use.
They are dishwasher safe, BPA, Phthalates, and PVC free
Overall I feel like they are better designed with the weighted straw I needed. They also come in some very cute colors! We chose Apple and Watermelon, but all of them were really delightful.
b.box Snack Pack and b.box Travel Bib and Spoon
Once I found the sippy cups, I decided to check out if there was anything else b.box could offer to make travel feeding a little easier. At home we use a silicone bib, but I really wanted to find a similar style that could fold into itself to be easily packed and contain messes. I also needed an easy way to carry at least two different types of food, because my daughter can be a bit picky.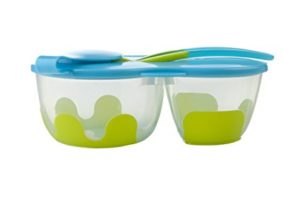 Things I like about the Snack Pack:
Two separated compartments that seal individually: I really love when food stays separate and when there are no leaks. This pack accomplishes both!
Spoon tucks away in the lid: The part of the spoon that goes in her mouth is covered by a small flap and the spoon is available when we need it.
The spoon is soft-tipped: It is a gentle spoon.
It doesn't slide: The non-slip base really stays put , so she is less likely to knock it off the table.
It is dishwasher and microwave safe: Top rack safe and microwave safe without the lid.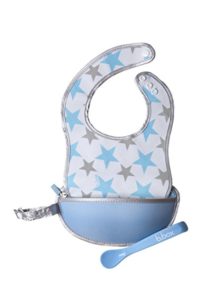 Things I like about the Travel Bib:
It rolls into itself: I keep it in our diaper bag folded in itself, which makes it take way less space and helps the diaper bag not be a total hot mess.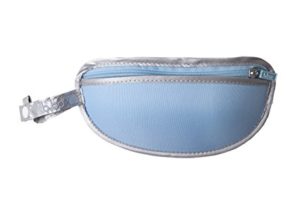 It holds the spoon: I love that the spoon has a safe and clean storage space.
It actually catches the food: Unlike bibs that have a softer "catch pocket," b.box's travel bib actually catches the majority of food that she regurgitates.
It is easily washable: It says it wipe it clean, but I actually throw mine in the dishwasher and then just hang it to dry in our dish rack.
With travel feeding and sippy cups covered, I really wanted to find a sustainable way to have some travel snacks. Some digging on Amazon led me to the Silikids silicone snack bags. I ended up picking up their silicone straw lids and a pack of their silicone straws too, because my kid is obsessed with drinking out of straws. I think that Silikids has some of the most innovative travel products out there.
I seriously love these bags! I think they are a total game changer for snacks.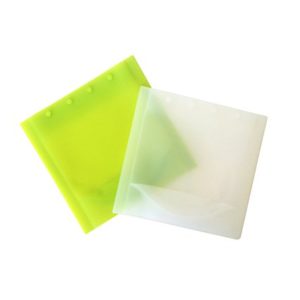 Here's why:
They are BPA free, hypoallergenic, and can be boiled: I feel good about storing food in these and they came without the smell of plastic.
They eliminate ziplocks for snacks: No more ziplocks, less waste!
Dishwasher and microwave safe: I can throw them easily in my dishwasher and can use them to warm food.
Siliskin Silicone Straw Tops and Straws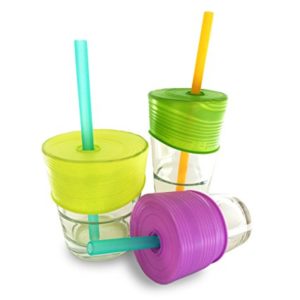 These are such a cool idea. Basically they allow any strong enough cup to become semi-kids safe. I keep one of these in the diaper bag too, with a silicone straw or two.
What I like about them:
BPA free and 100% silicone: Again, I can feel good about giving it to her.
Dishwasher safe: I can't have anything that isn't dishwasher safe in my life these days.
I would suggest a pack of the Silistraws to go with them, as one straw wasn't enough for us.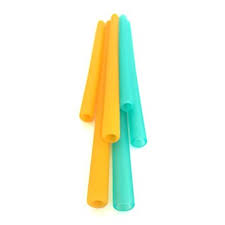 ---