Shoes for beginning walkers that kids don't hate!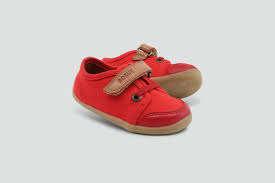 As fast as a year has passed, our little one is ready for shoes that aren't soft soles! In addition, NYC does not offer a ton of clean places to walk for tiny bare feet, so shoes for the park are a must. I did a ton of research on companies that provide the appropriate amount of support for tiny developing feet and found two companies that I could really get behind and were similarly priced ($30-$40 for most pairs). See Kai Run and Bobux are the best shoes for new walkers!
Normally when I do a comparison there is a pretty clear winner, but quite honestly, both of these companies are incredibly stellar. From the ordering process, to quick shipping, to quality of shoes, they are both easy to recommend.
I should start by saying my kid HATES shoes. Every shoe I have put on her she holds up dramatically and pretends like her legs no long work. As funny as this is, it is super frustrating when you have just dropped $30-$40 dollars on a pair of shoes that will now get donated.
I ordered from Bobux first because I heard that kids who are shoe-haters are less likely to hate on their shoes. Once I received their Step Up shoes I realized why. They are SUPER well made! They look and feel as well made as any of my sneakers, and the soles felt lighter than other first walkers I have felt. There were also really lovely touches inside the shoes, including a leather lining! The moment of truth came when putting them on my daughter, but, surprisingly, she just kept saying "ooooh" and then ACTUALLY stood up in them. It felt miraculous.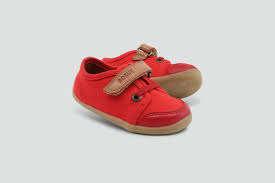 Bobux- Leisure
Feeling ambitious, I ordered a few pairs of First Walker shoes from See Kai Run, another company I heard and read great things about. I also liked that See Kai Run was owned by a mom who was looking to design what she wanted in a shoe.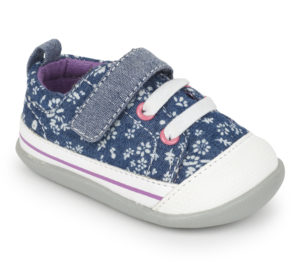 See Kai Run- Stevie II
The shipping was super fast, and before I knew it my daughter had three pairs of tennis shoes and a sandal, all that she would actually wear! Similar to the Bobux shoes, these two new pairs of tennis shoes and new pair of sandals had a great sole that was just the right support. She wore them easily and didn't try to rip them off at every turn.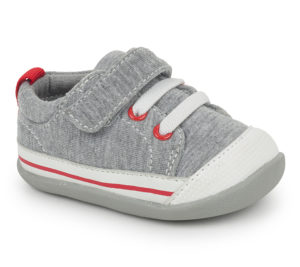 See Kai Run- Stevie II
I think the lesson here for me was spending a little more on quality first walker shoes is totally worth it.
Things I LOVE about Bobux shoes:
They have a ton of gender-neutral options: My daughter isn't super-girly yet, so it was nice to have a lot of gender-neutral options to choose from.
They are extremely well made: They hardly show any wear after months of use
The leather accents: I love that her shoes are equally as well designed as mine.
The small details: Even the lace holes had actual metal detailing. I can't say enough about how well designed these shoes are.
The soles: The soles are well designed for a first walker and she doesn't mind wearing them. They are flexible and give her free range of movement.
The bottoms: She has GREAT grip in these shoes.
They are easy to get on and off!
What I love about See Kai Run shoes:
They are really fashionable: Their Spring collection could have easily been for an adult.
The color palate: See Kai Run shoes has an awesome color palate for kids who love bright colors!
The company is owned by a mom looking for great shoes for her own kids: I love to support other moms and know that they are creating the best product for their own kids.
The soles: Though I found the Bobux shoes were slightly more flexible, my daughter easily moved in these as well.
The bottoms: She has an easy time walking in these. Great grips!
Overall, both of these companies offer great shoes for beginning walkers, so depending on your preference for design, wither would make a great choice to buy from.
---