Cleaning my ceiling fans can be EASY?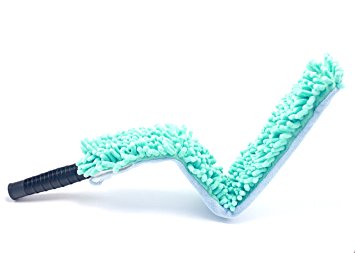 As we approach the second baby arriving, I have been actively searching for ways to make tough tasks easier. One of the the things I love most and one most stubborn problems in my NYC apartment is the high ceilings. I have fourteen foot ceilings in most of the rooms of our apartment, which makes changing lightbulbs and cleaning ceiling fans a really arduous activity. Picture me on a barstool with my foot on the counter just barely reaching the fan in our living room.
I did some research on companies that had extendable poles to clean ceiling fans, as a standard pole isn't going to reach our high fans. After major fails on two other brands, I found the Eversprout microfiber ceiling and fan duster and thought the 20 foot reach sounded like exactly what we needed. The fact that it folded into a five foot pole when not in use was pretty appealing too.
I've found a winner folks.
Things I love about Eversprout:
The pole is so sturdy: The pole was way better quality than I would have expected for a duster. I suspect this is because they use the same poles for the many utility head options they offer. I was so pleased.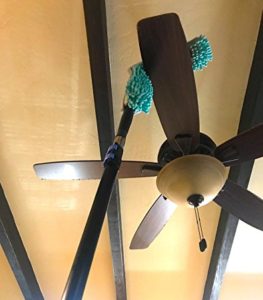 The microfiber duster head is HUGE: Bending it, I was able to do each fan blade with only one swipe.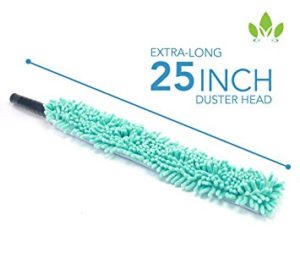 It can fit any fan blade: The bendable design make it work for every fan blade in my home.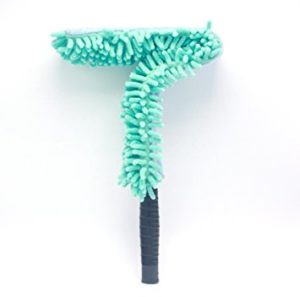 The microfiber duster head is washable:
I love that this is an eco-friendly way to clean.
IT ACTUALLY DIDN'T MAKE A MESS: The thing I love most is that it didn't drop any visible dust on the floor, and I waited until our fan was VERY dusty before I used it. I was able to pull the clumped dust and dump it into the trash.
Their customer service is really great: I got a response in less than four hours when I emailed them to ask if their were other dusting products that would fit the pole.
My only wish is that I had more uses for the pole, being that it is so sturdy. My next attempt might be some of the other cleaning heads Eversprout offers.
Overall this is a HUGE winner for ease in cleaning.
---