Toki Mats – The perfect play mats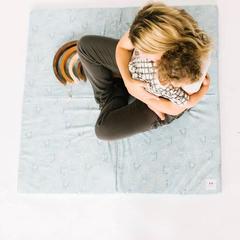 If you search for play mats on the internet, you'll be shown a lot of different results. But the things they all have in common is that they all have a bunch of toys that hang, things that make noise, and a ton of bright colors. This is great for an older baby, but for a newborn, it's extremely over-stimulating. I wanted a mat that was easy to transport, comfortable for my baby to lay on, and one that I can choose what toys my baby is introduced to so I can tailor them to be age-appropriate. I had just about given up when I found
Toki Mats
.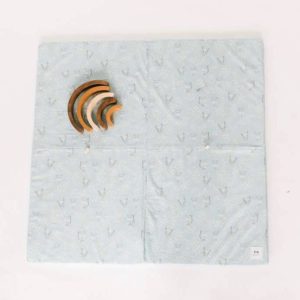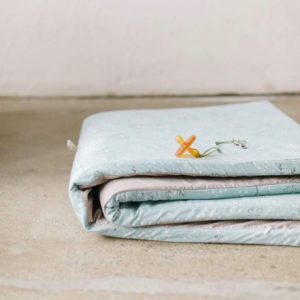 -Each mat is made with so much love. They are free of toxins, PVC, phthalates, and lead. There's even an
organic collection
!
-The cover is 100% washable cotton. Babies make messes, and lots of them. Spit up, drool, pee, poop, the works. I needed something I could throw in the wash when things get dirty. And best part is I opted to get the
waterproof bamboo jersey cover
so any liquids won't ever find their way inside my mat.
-This thing is SO comfortable, y'all. All jokes aside, I could sleep on this thing. And that's not just because I'm a sleep deprived mom. This mat is made from 1 inch of pure natural latex foam. It is the springiest, squishiest material!
-The mat is a sweet, subtle print, but can be changed out for other covers to fit in different design spaces.
-It has two anchor points to hook the toys (or pacifiers) of your choice to. You can change out the toys as your child grows!
-It's big! Most play mats are on the smaller size, but this mat is big enough for you to get on the floor and play with your child. And even better, it folds for easy storage!
-Every mat comes with a carrying case! Having the carrying bag not only keeps it clean and fresh, but also makes toting it to grandma's house a breeze.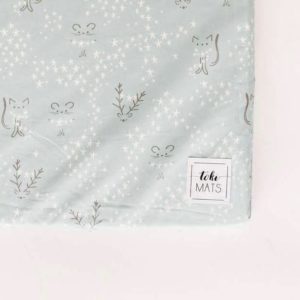 I really can't say enough about this mat – I couldn't love it more. It's perfect for my needs and exactly what I wanted for my son. And most importantly, they were invented by a mom! She knew what the market was lacking and created just that. If you're looking for the softest and comfiest play mat ever, look no further. Toki Mats is simply the best.
---